Class meets every Tuesday & Thursday at 5:30 p.m.
Little kickers' & beginning classes begin at 5:30 p.m.
Intermediate class begins at 6:30 p.m.
In class on Tuesdays, we cover techniques and concepts.
Thursdays we work on application of what we learned on Tuesday.
We recommend comfortable, athletic type clothes for your first visit. Gi's (uniforms) are recommended and available for purchase.
What will you be learning at Nova Defense Systems Kenpo Karate?  Self defense, discipline, respect, tenacity, and so much more while you have fun in a safe and encouraging environment.
Stop in during any scheduled class time to begin your martial arts training.
Call 719-275-7249 with questions outside of class time.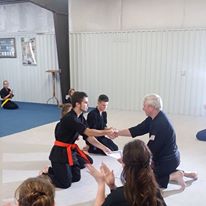 Want to know more about who is teaching you?  Get acquainted with our instructors here.